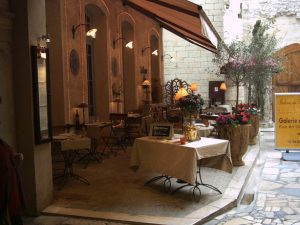 Emilia is a successful owner of a 5-star Peruvian restaurant in Port Chester, NY located in Westchester County. Her world famous head chef, Toby, studied under a renowned Peruvian master chef and has encountered an unexpected event. He will not be able to work for one year or more. What is Emilia to do? Its not like she can find another chef to replace Toby in the Yellow Pages. Toby has special qualifications and finding a suitable U.S. replacement will be difficult, if not nearly impossible. A temporary U.S. work visa (H2B) may be the perfect solution for Emilia.
An employer-sponsored temporary US work visa, H2B (H-2B), is one of six of the H visas. The H visas are appropriate for a situation where an employer has a temporary U.S. job and cannot find a suitable or qualified US employee fill the position. In this case, the employer will locate a willing, able and qualified foreign national for the position and will petition for him or her to come to U.S. to work temporarily. The five other H visas are: H1B (H-1B), H1C (H-1C), H2A (H-2A), H3 (H-3) and H4 (H-4).
In particular, the H2B visa is a non-immigrant visa for a foreign worker who will be employed with a temporary or seasonal non-agricultural job in the US.
It is the employer and not the foreign worker who petitions for the visa. So, the employer (or petitioner) must show that:
The job is temporary and falls under one of the acceptable categories of "temporary." The employer must also submit/provide evidence the temporary need;

In the U.S. there are not enough workers who are qualified, able, willing and available to perform the temporary job; and

Employing a foreign worker will not have an adverse affect on the wages and working conditions of comparably employed U.S. workers.
An employer also has to obtain a valid temporary labor certificate from the U.S. Department of Labor (DOL).
Here, Emilia's need for a new head chef qualifies under the temporary category of One-time Occurrence. This is because Toby's position is permanent, but due to an unexpected short-term temporary event, Emilia needs to hire someone to fill his position. No temporary worker has filled Toby's position in the past and one will not be hired in the future.
Emilia can submit or provide evidence of the short term temporary event through documentation, such as doctor's letters or medical files that substantiate her claim.
Additionally, because Toby has such specific and special qualifications Emilia will be able to demonstrate that there are not enough U.S. workers who are qualified, able, willing and available to perform the temporary job.
Moreover it is unlikely that temporarily employing another foreign Peruvian trained chef will adversely affect the wages and working conditions of a similarly employed U.S. worker.
Lastly, once Emilia obtains a valid temporary labor certificate from the DOL, she will be able to submit the certificate and her I-129 form/petition with proper documentation to USCIS. It will only be a matter of time before Emilia is able to replace Toby with temporary or seasonal non-agricultural foreign worker.
The Claro Law Firm understands how important obtaining a visa is for your future and the future of your family. Westchester County: New Rochelle, Yonkers, White Plains, Port Chester NY immigration lawyer Elisa Claro is here to give you personalized legal guidance. Contact us at 917-300-3334 or online at www.lawredress.com to set up an appointment to discuss your situation.