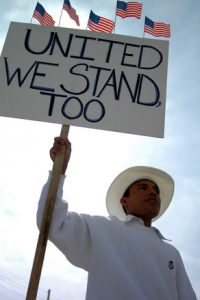 TAKEN ADVANTAGE OF
Shameless. That's a good adjective to describe those who prey on and victimize undocumented persons. As awful as it is, immigrants, or undocumented persons, are often easy targets, especially when it comes to helping them gain legal status in the United States. They're easy targets because they're unlikely to report injustices done to them out of fear of retaliation or deportation.
The experience Braulio, an undocumented person, is all too familiar. He's a hard working laborer who hired an individual he believed to be an immigration lawyer to secure a green card for his family. It turns out that the person he hired was not an attorney. Consequently, his case was mishandled and he lost $20,000. For reasons like this, it's imperative to choose the right person to handle an immigration case.
CHOOSING THE RIGHT PERSON TO HANDLE YOUR CASE
A person who's looking to file for legal status in the United States has a choice: To hire an attorney[1] or hire a non-attorney. Although it's true that a non-attorney[2] can prepare and file immigration papers on behalf of an undocumented person, there are no downfalls to hiring a knowledgeable immigration attorney. In fact, it's preferable. For example, an attorney is licensed to practice law and can give you legal advice—a non-attorney can't. An attorney is also in a better position give you the best options regarding your case. Last but not least, only an attorney can represent you in immigration court.
TIPS FOR HIRING AN ATTORNEY
No one can anticipate or altogether avoid fraud, but steps can be taken to lower the risk of becoming a victim of immigration fraud.
First, it's important to note that in some countries "notario" means that a person is an attorney. This isn't true in the United States. With that being said, here's some helpful advice when selecting an attorney to hire.
Overall, it's imperative that you feel comfortable with the attorney you're thinking of hiring. You need to feel that you can trust the attorney and that he or she is knowledgeable in immigration law. After you've identified such an attorney, it would be a good idea to check the attorney's credentials. Doing so will allow you to verify that the person is in fact an attorney and that he or she is in good standing. Checking an attorney's credentials is done through a quick online search. Most state court websites provide a feature that allows a user to search for an attorney and view the attorney credentials, including his or her disciplinary history. An attorney's disciplinary history is important to know whether or the attorney is under a court order restricting his or her ability to practice law.
Although malpractice insurance isn't required by all states, it would be a good idea to find out if the attorney has such insurance. If he or she does, you can ask for proof of insurance and verify with insurance carrier that the policy is valid and in good standing.
WHEN THE INEXCUSABLE HAPPENS
The inexcusable might happen despite your best efforts. At that point, knowing your options can become invaluable for an undocumented person who is victimized by an attorney. Although suing the attorney is always an option, it's not the only available option. Other options include filing a complaint against the attorney with the organization that grants or withholds licenses to practice law in your state. Or, you may be able to get compensation from a third party fund – "client security fund." This fund can reimburse persons who the court finds were defrauded by an attorney. Your local bar association or the state disciplinary board can provide more information about these funds.
The Law Office of Elisa Claro, PLLC, located in White Plains, NY, Westchester County is always available to consultation with you about your immigration goals. Visit our website or give us a call today: 917-300-3334.
[1] An attorney in good standing
[2] Here, a non-attorney is referred to as a person who does not have a license to practice law or a person who is not a representative accredited by the Board of Immigration Appeals (BIA) and working for BIA-recognized organizations.