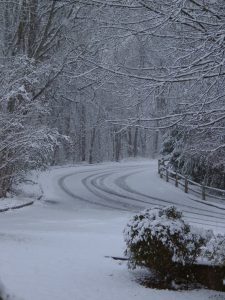 The New York Vehicle and Traffic Law section 1180(a) – what is it and what does it mean for you as a driver? Lets first illustrate this traffic violation:
Gabe grew up on a farm in a Northeast.  He has been driving tractors and trucks and plowing snow on the farm since he could see over the steering wheel.  When his wife took a job transfer to New York, they relocated to Yonkers. The 55-mph parkway speed limit frustrated him in comparison to the 80-mph speed limit on the interstate back home, and he thought the locals drove extremely slow in the snow. Even though Gabe was driving below the speed limit, he was completely shocked one snowy day when he was ticked for "speed not reasonable and prudent." 
What exactly is this violation Gabe received?  VTL § 1180(a) is defined as:  "No person shall drive a vehicle at a speed greater than is reasonable and prudent under the conditions and having regard to the actual and potential hazards then existing."
Hazards can be caused by various road conditions that create situations where driving the posted speed limit becomes hazardous.  For example, weather conditions such as sleet, freezing rain, or snow will increase danger on the roads.  It is very important to remember overpasses, ramps, and bridges will freeze first.  Even when roads have been cleared of snow, slippery spots may remain. 
Things other than nature can also create hazards. Vehicles that break the flow of traffic by driving faster than everyone else, and weaving in and out of traffic may also receive a traffic violation under this section of the law.  Other instances when a driver may receive a ticket for this violation would be if he or she were involved in a single vehicle accident such as hitting a deer or sliding off the road.  Unlike posted speed limits that give specific numeric guidelines to adhere to, VTL § 1180(a) applies reasonableness to the specific situation in which a driver may find him or herself. 
What are the penalties and fines should you be convicted of this violation?  A first conviction carries a 3-point penalty.  Fines include a $93 court fee and $150 maximum fine.  Incarceration can last up to 15 days.  Additionally, if these 3 points bring the total of points on your driving record to 6 or more, you will be charged a Driver Responsibility Assessment Fee.  Insurance premiums may also increase.
As shown above, being convicted of a speed not reasonable and prudent ticket can quickly add up financially and incur points on your driving record.  Have you received such a ticket recently?  Call Elisa Claro of The Claro Law Firm at 917-300-3334 or visit online.  The Claro Law Firm's specialty is Traffic Law and has helped thousands of drivers to care for their driving records.  The Claro Law Firm handles traffic tickets throughout the state of New York, including New York City, Bronx, Brooklyn, Manhattan, Queens and Staten Island; and Westchester County – Greenburgh, Yonkers and Hartsdale.