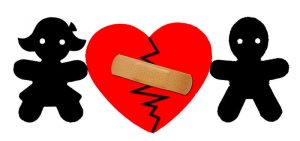 Their love story began as only one could that was written by a romance novel author.  At least Jessica thought so.  Shawn was the tall handsome athletic man she had always dreamed of meeting.  And she – the exotic businesswoman from White Plains, NY.  He watched her from afar as she worked out with a personal trainer at the local Dobbs Ferry, NY gym.  After a whirlwind romance that included live bands and homemade meals  they decided to build a life together and start a family.
She signed for a quaint fixer-upper home at the end of a cul-de-sac with a park in Bronxville, New York.  But just as quickly as their romance blossomed, it seemed to die out. 
How could this happen?  Life is not supposed to crumble before your eyes. After a few conversations where Shawn admitted he could care less, the reality of the situation came down to one word.  DIVORCE.  But what was the next step?  She would need to find the best Westchester County divorce attorney. Or should she do the divorce herself?
Although Jessica always prided herself by doing things on her own, she remember what her mom told her: if you knew that you or someone in this family had to have an operation on a tumor, would you YouTube the procedure and perform it, or get a nurse who has only seen the process done?  Then why jeopardize your rights, including your 401K?
It turns out that Jessica is the perfect candidate for a no fault divorce. What is a No Fault Divorce?  Although known as no-fault divorce, its formally known as irretrievable breakdown in relationship for a period at least six months and is governed by the Domestic Relations Law section 170(7) [DRL§ 170(7)]. It is the newest grounds for divorce in New York State.  
To qualify, your relationship with your spouse must have broken down irretrievably (so that it is impossible to repair or reconcile) for a period of at least six months. The court also requires that one of the parties swears under oath to the break down of the relationship; and you and your spouse have either resolved all martial issues such as distribution of property, maintenance, child support, and counsel and/or experts fees and expenses, and the custody and visitation with the minor children of the marriage. If you and your spouse cannot resolve these issues, the court can decide them for you and incorporated them into the final judgment of divorce.
Let the best White Plains divorce lawyer do the heavy lifting for you. Here at The Claro Law Firm we understand situations like Jessica's and specialize in no fault divorce proceedings.  
At The Claro Law Firm the best divorce attorney can help you transition to a new lifestyle with peace of mind and fight for your best interests. Call us today at 917-300-3334 or visit us online at www.lawredress.com to talk to a knowledgeable divorce attorney. Or for more information on uncontested divorce, visit our Grounds for Uncontested Divorce webpage.
The Claro Law Firm services Westchester County including White Plains, Port Chester, Eastchester and Yonkers.